Who We Are?
With more than 7 years of prominence in the industry of medical supply chain, Universal Health Care & Suppliers is acknowledged as the leading distributor for Ajanta ED Products in India.
Our company is prospering with constant development in business and over the preceding years, we have accomplished worldwide prominence in the pharma industry. We are the distributor and supplier of assorted variety of pharmaceutical drugs, life-saving medicines and treatment supplies on a vast scale in the categories such as oncology, HIV, Nephrology, and diverse critical care divisions. We are patronised with accredited and authentic pharma brands and companies like Cipla, Glenmark, Mylan, Natco, Novartis and so on. We are serving supply on the Pan India scale. Apart from being a national supplier, Universal Health Care & Suppliers is also an international exporter of pharmaceutical supplies. Our international trading permit of import/export is licensed under the registration code 0312057351. We have thousands of international clients overseas as well as national consumers, making a huge global family!

The trustworthiness of our company is driven by sincere compliance for ultimate consumer satisfaction. Universal Health Care & Suppliers aims to establish a healthy community worldwide through the devoted supply of essential medicines and restorative drugs. We endeavour to serve global consumers with a clear objective to provide premium services and build a strong relationship with our clients and partners.

Under the state-of-the-art infrastructure, we have settled our operational base with advanced facilitations spreading over a wide span area to accommodate a vast stock of medicines. Our warehouse stresses the special emphasis on the maintenance of proper temperature and robust sterilization to keep the products in the best condition. Our vast service settlement is divided into distinct departments and different units are reserved for different operations like quality testing, warehousing & packaging, sales & marketing. The whole infrastructure is well-managed and aptly-operated by perfectly-trained professionals. The efficiency of departmental functions is dynamically managed and sustained by the latest technology and digital innovations, therefore, boosting the quality of production of our firm.
To uphold our social responsibilities of delivering highest standard healthcare services to all segments of society without compromising on our core values of integrity, good ethics and commitment.

To become a globally acclaimed pharmaceutical company through development and introduction of wide portfolio of Pharmaceutical.
To become a global healthcare organization and to be recognized as domestic and internationally integrated healthcare and pharmaceutical company through Innovation, Quality and Competence.

To become the leading pharmaceutical player in the industry by assuring high quality standards and cost effective products at all times. We want to mark our presence in the society by creating a portfolio of medicines available at a reasonable cost within the reach of all patients.
We at Universal are focused on creating business avenues through marketing of products and making available the quality products to our customers that generate sustainable revenues and growth of the company and our associates.

In order to attain the maximum satisfaction of our clients, we always make sure to make a genuine and transparent deal with them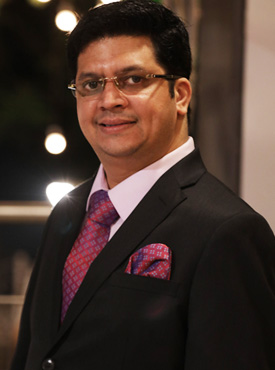 Mr. Sandeep Shinde
Proprietor
Mr Sandeep Shinde is the founder as well as Chairman Managing Director Universal Health Care & Suppliers. Mr Shinde, a chemical engineering graduate of Mumbai University, started the journey of his career with manufacturing metallic stearates for the pharmaceutical, paint, tyre and HDPE LDPE granules Industry. After becoming the sole proprietor of Universal Health Care & Suppliers, Mr Shinde is performing his responsibilities with supreme dedication in the business development affairs of both the domestic and international markets in association with aplomb.
Over the times, he has achieved eminent global fame for the launching of more than 140 molecules for the first time ever in India and 2nd time in the world market after the Originator. The marketing insights of Mr Shinde have directed the tremendous supply of HIV/AIDS molecules by stretching by marketing paths for Hetero Group, between 1997 and 2003, particularly in Latin America, Middle East, Sub-Sahara and Africa.